Flexible Working
Could this revolutionise work-life balance?
The four day work week gains positive results.
---
Compressed work weeks are off to a flying start, with several studies bringing in promising results.
Flexible working is widely recognised as a valuable approach to attract and retain employees of all ages and genders. And with parents working more than ever, it's a real need. [1]
Capable of fostering employee engagement and productivity, flexible work contributes to enhanced employee well-being and happiness.
And employers are getting savvier on how to implement flex with mutual benefits. Recently, the compressed work week or the four-day week has been getting a lot of attention. So far, the feedback is positive.
What is it?
On a Four Day Work Week (4DWW) employees work 80% of their previous hours with 100% pay — provided that productivity levels remain the same.
For non-customer facing companies the 'gift day' can be chosen as the same day for all staff (normally Fridays) allowing for team collaboration and consistency of service levels.
Productivity Perks
A recent study of 10 Australian organisations found that productivity improved for 70% and stayed about the same for the remaining 30%.
In addition to productivity perks, the companies assessed also found increased revenue and customer satisfaction, better staff retention and reduced absenteeism. [2]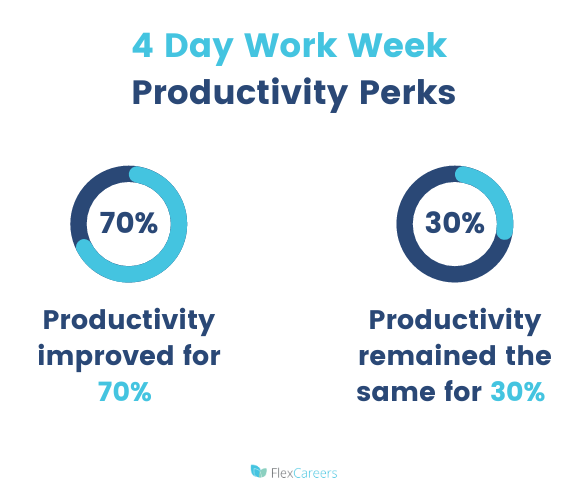 Life Admin
All the 'unglamorous' tasks came up as a major benefit to tick off for the employees who trialed the compressed work week. With grocery shopping, chores, bill paying and more 'life admin' tasks cited.
The ability to get these tasks done before the weekend starts allows more time for whatever the person wants to focus on outside of the chores.
3 day weekends were found to increase free time for visiting family— especially for those that involve some travel time.
Promising Results for Improved Wellbeing
With health and wellbeing being a major focus for many progressive organisations, offering the 4DWW also offers accessible routes to caring for the employees own wellbeing.
The research found that more health appointments were made on 'gift days', or alternatively, employees rated that they would dedicate these days for self-care or quality time with family.
With burnout being a real threat in all industries, the compressed work week is shaping up to be a good antidote.
Flexibility for Frontline Workers?
And good news, it's not impossible to achieve for those industries that have to offer a more traditional roster, whether for operational needs or as a client facing business model.
The companies assessed still experienced success by opting for the 'gift day' to suit individual preferences while still providing the cover required by operational need.
Scenario: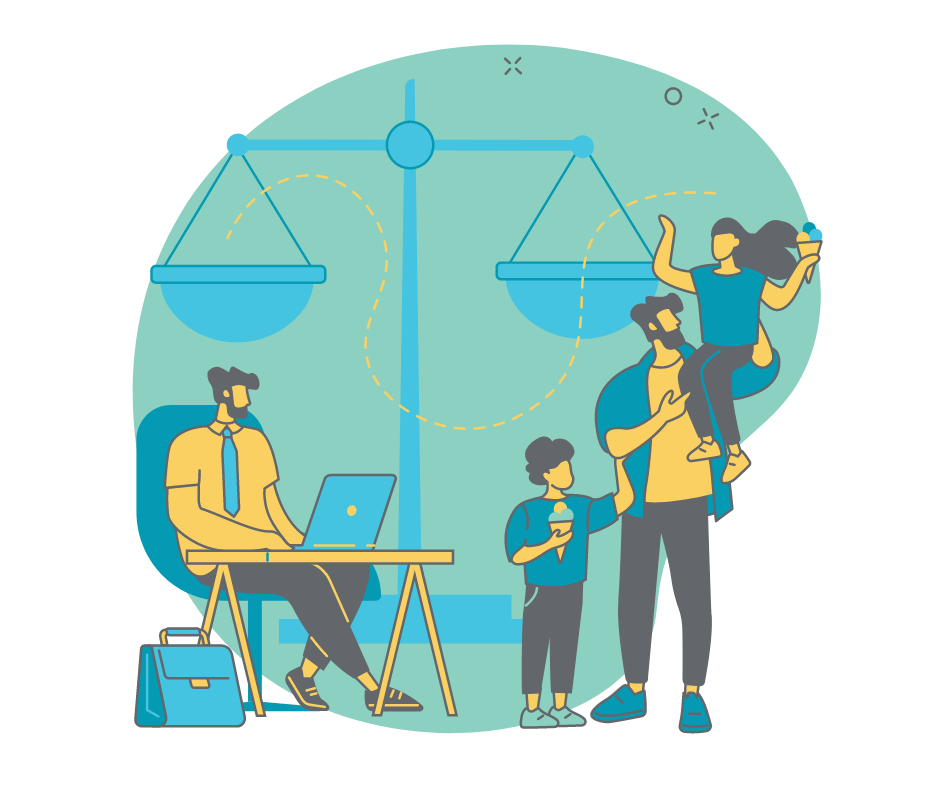 Alex and Jordan are working parents. Alex is a frontline worker in the energy sector on a compressed work week (working full time hours compressed into 4 days).
Alex is home with the kids every Friday while partner Jordan works part-time, allowing the couple to save on childcare costs, enjoy more quality time and share the household labour.
There's many ways your organisation can think about work life balance and the impacts may be bigger than you think.
We asked the FlexCareers team how they would spend a gift day, unsurprisingly our answers echoed the researched.
"I'm a sandwich generation girl, so my Friday looks like slowing down and being present at the start and end of my kid's school day, plus taking my elderly parents out for their weekly shop/chores/lunch day. Finally, enjoying an early Friday night dinner with friends to celebrate getting through it all."

- Lucy
"We have a very hectic schedule, so more time in the week to focus on family committments and being more involved in my kids school & sporting activities would be wonderful. It would also allow additional time for study, exercise, and quality family time. "

- Paula
"I would use a compressed work week to fit in being present for events at my kid's school, getting errands done while everyone else is at work and school, so we can enjoy our weekends doing fun things, and a little self-care so that I don't feel like I'm neglecting myself."

- Belinda
"My time is carefully calculated! I use it wisely to study to invest in my own future and show my kids you can be/do more than one thing. But I also factor in time for a treat whether that's a lunch out all by myself, or an acupuncture appointment. I always leave feeling rested and refreshed."

- Amy
As Experts in the Flexible Working space here's a round up of our tips for success:
Plan Your Workday
You'll want to keep up the momentum particularly if you are adding a couple of extra hours to your day, schedule breaks to keep yourself fresh.
Schedule Time Off Slack and Emails
Pause notifications and put yourself on do not disturb to maintain your focus, particularly when you're working on projects that require your full attention.
Meetings
Get mindful of other people's time, the research into the 4DWW found that all organisations reassessed meeting frequency and durations to improve efficiency and keep productivity levels up.
Communication
Careful planning, consideration, and piloting and iterating to get the best results.
Flexibility is Key
More than ticking boxes, real flexibility gives mutual benefits to the progressive organisations that choose to leverage it.
Whether it's a four day work week or a different flexible initiative, flexible working is strongly associated with unmissable outcomes such as increased ability to attract and retain talent, and greater representation of women in leadership roles [3]
Could this be the key to revolutionising work life balance for your organisation?
References:
[1] Tuohy, W. (2023) https://www.smh.com.au/national/australian-families-changing-as-more-mothers-return-to-work-full-time-20230523-p5daml.html
[2] Swinburne (2023) https://researchbank.swinburne.edu.au/file/32b78de1-170c-4b00-9171-7c89f207f7d2/1/2023-four_day_ww_preview_report.pdf
[3] WGEA. (2019) https://www.wgea.gov.au/sites/default/files/documents/business_case_for_flexibility_0.pdf
---
About FlexCareers
FlexCareers are leading experts in diversity, flexibility and future of work solutions across the entire employee lifecycle. Our careers platform features
Australia
and
New Zealand's
largest marketplace of flexible job opportunities, and connects talented individuals with progressive employers offering flexible work. Our
employer services
include strategy consulting, coaching, branding and training services as well as our proprietary Return to Work Program. Job seekers can also access career support from our
expert coaches
.