Diversity & Inclusion
Driving Well-Being for a Thriving Future
The Future Of Flexible Work.
---
22% is the average gap between employers and employees perceptions of workplace well being. Employers view wellbeing more positively than their employees [1]
If you are reading this, we know you care about the wellbeing of your workforce —and on your way to becoming an employer of choice.
When it comes to work place well-being, empowerment is a key theme— emerging as a driver to protect employee well-being, and tackle burnout.
Candidates are listening. The good news? It is possible to stay ahead of the curve by prioritising a flexible-first approach to address the work-life balance needs for your workforce.
Getting Serious About Well-Being
Creating a psychologically safe workspace can not only motivate your workforce, but work to increase employee's perceived value reaping mutual benefits for both the workforce and resulting productivity.
Highly motivated employees are shown to benefit your bottom line. [2]
Furthermore, as of 1 April 2023, The Workplace Health and Safety Act was amended to include psychosocial risks:
"A risk to the health or safety of a worker or other person from a psychosocial hazard." [3]
The key take away? As a business, you must look at psychological risk in the same way you would for physical risks. Wouldn't it be great to provide for workforce well-being as standard, and not just to be compliant?
Giving your employees the policies they need for the best chance to achieve their work-life balance goals creates mutual success for all.
You can put your workforce in the drivers seat and go beyond compliance with initiatives that make real impact for workforce well-being.
Flexibility Links To Well-Being
More than ticking boxes, real flexibility gives mutual benefits to the progressive organisations that choose to leverage it. Time and time again, the research shows that flexible working is crucial for attracting and retaining a gender diverse workforce.
Capable of fostering employee engagement and productivity, flexible work contributes to enhanced employee well-being and happiness.
Why Is Well-Being Important?
As a result of the global pandemic, employees have already taking responsibility for their own work-life balance.
We're seeing a trend to get ahead of the curve by championing flexible work practises, and making them the norm.
Give your people the tools they need to engage in work, and have the time for what's important to them. FlexReady Certification gives your organisation proof of the lived experience of flexibility in your workplace setting.
FIND OUT MORE
The Problem with Burnout
We're seeing a shift to proactively address burnout by providing the tools and transparency to manage workload.
Flexible work arrangements can eliminate the stress of long commutes, and free up time for family or self- care. Appealing to many future focused demographics.
WHAT IS FLEXIBLE?
Safe Workplaces
Creating a psychologically safe workspace is crucial. Employees who feel trusted and supported are more likely to feel motivated and valued.
Creating workplaces where everyone can bring their whole selves to work are championed and celebrated. [4]
LEARN MORE
Wellbeing For A Sustainable Future
Avoiding 'Wellbeing Washing' is essential to prove to your staff your wellness strategies are authentic and will initiate real results for years to come.
Yet the challenge remains how to convincingly demonstrate and communicate your offering with external talent.
FlexReady Certification recognises your efforts and proves your organisation means business. Being a FlexReady Certification holder gives your company the tick that you are doing what you say you are for now, and in the future.
JOIN OUR EMPLOYER PARTNERS
Get The Flexibility Forecast Now!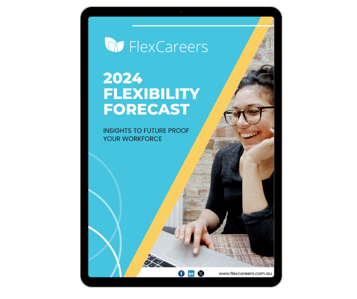 If you found this interesting, you'll love our Flexibility Forecast. A comprehensive round up of the latest flexible work trends from Australia's most progressive organisations.
See what initiatives our employer partners are implementing to help their people thrive. Full of practical insights to make a real impact in your workplace.
GET IT TODAY!
Not a nice to have, flexibility is a must-have. Get the insights to lead the way to a flexible future- get your free download today.
References:
---
About FlexCareers
FlexCareers are leading experts in diversity, flexibility and future of work solutions across the entire employee lifecycle. Our careers platform features
Australia
and
New Zealand's
largest marketplace of flexible job opportunities, and connects talented individuals with progressive employers offering flexible work. Our
employer services
include strategy consulting, coaching, branding and training services as well as our proprietary Return to Work Program. Job seekers can also access career support from our
expert coaches
.