Employer Partners
Peerpoint brings new flexible opportunities for lawyers
Join over 300 independent lawyers doing rewarding work for great clients – on their own terms.
---

Join over 300 independent lawyers doing rewarding work for great clients – on their own terms.
Peerpoint is Allen & Overy's global platform for independent consultant lawyers who want to access the best work, clients, resources, and bespoke support. Peerpoint lawyers work with A&O as well as directly with clients.
There are over 300 consultants on the panel, across the globe, so you'll be joining a community of like-minded and ambitious people. Peerpoint was designed for lawyers wanting more career control and choice. Lawyers no longer define success as following a conventional career path – many now consider factors such as achieving diversity or agility in their career.
With Peerpoint, you have Allen & Overy behind you, and this comes with access to the highest-level work, clients, resources and support.
What are the benefits of working with Peerpoint?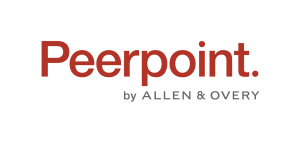 You might want more variety in your work to deepen your expertise and, with an expanded skillset, gain a competitive edge. You might want more control over your time, to be able to balance professional and personal ambitions.
Whatever your individual choices or needs, you will have the opportunity to set your own course and maintain the trajectory of your career as you move ahead.
Calibre. Challenge. Choice. Control. If we had to sum up what we offer, and what sets Peerpoint apart for our consultants, these four words cover it. That and a close relationship with Allen & Overy.
High-level work with top-tier clients

You will be offered access to a wide range of top-tier clients and our client team will work closely with you to understand your goals and ambitions and what you want to achieve with each assignment you take on.

Resources from an international magic circle firm

When you join the Peerpoint panel, you will have access to a wide range of resources and support including an A&O partner contact when on assignment; A&O professional support lawyers and knowledge resources; access to client newsletters and seminars; invitations to A&O networks and pro bono opportunities and bespoke support.

Support tailored-to-you

The key to your continued progress is ensuring you are matched to the right opportunities. Peerpoint will work with you individually to understand your skillset, experience and personality.

As a Peerpoint consultant, you are never on your own – you are part of the Peerpoint community of like-minded lawyers who have all chosen the self-directed route, and are keen to share their experiences and learn from one another.

—

You can check out Peerpoint's available roles here.

-->
---
About FlexCareers
FlexCareers are leading experts in diversity, flexibility and future of work solutions across the entire employee lifecycle. Our careers platform features
Australia
and
New Zealand's
largest marketplace of flexible job opportunities, and connects talented individuals with progressive employers offering flexible work. Our
employer services
include strategy consulting, coaching, branding and training services as well as our proprietary Return to Work Program. Job seekers can also access career support from our
expert coaches
.