Return to Work
Return to Work and Re-establish your Career at Water Corporation
And feel valued as a carer or parent
---
APPLICATIONS ARE NOW CLOSED - REGISTER

HERE

FOR FUTURE RETURN TO WORK OPPORTUNITIES
Returning to work after a career break can be challenging. Water Corporation understands this and values the role you play at home. They offer flexible careers that allow you to balance the changing needs of your family and make time for what's important. There's never been a better time to join this transforming organisation, as they create a safer, more water resilient future for all Western Australians.
Water is life. As we continue to feel the impacts of climate change, Water Corporation needs to plan carefully, to meet the needs of our customers, community and state and connect every Western Australian with a clean accessible water supply.
Choose from a range of permanent and fixed-term roles in Asset Planning & Delivery, Operations Group and Information Technology. Find balance by working flexible hours, part-time, or work from home days.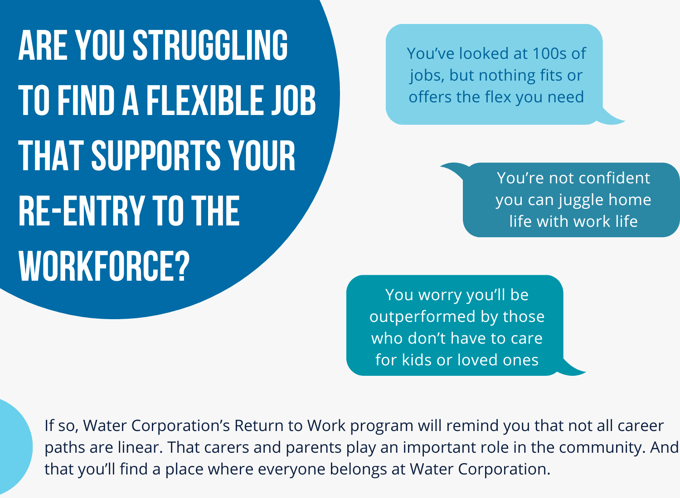 A PROGRAM DESIGNED TO ENCOURAGE AND SUPPORT YOU AS YOU GO BACK TO WORKROLES TO SUIT YOUR CAREER AND FAMILY ASPIRATIONS
Choose from a range of permanent and fixed-term roles in Asset Planning & Delivery, Operations Group as well as Information Technology. Work flexible hours, part-time, from home days or job share. And feel valued for the role you play - at home and across WA.
HOW TO APPLY FOR A ROLE AT WATER CORPORATION
Submit your application and the Water Corporation recruitment team will be in touch to let you know the next step.
The recruitment process:

APPLY SCREENING SHORTLIST INTERVIEWS DUE DILIGENCE OFFER START
The roles are planned to start on 1 Feb 2023. And you'll have dedicated support through every stage of the recruitment process. Applications close 27th November 2022.
MEET ELLEKE & PASCILIA

Elleke and Pascilia have both had career breaks, returned to work, and experienced what it's like to be valued for the work they do at home, and in the wider WA community.
PLAY A POSITIVE ROLE IN WA TODAY AND IN THE FUTURE
Water is life. And Water Corporation has been supplying clean, accessible water to thousands of homes, businesses and farms in WA since 1996. There's never been a more important time to be doing this work, as the demand for a sustainable, climate-resilient water future grows. When you join Water Corporation, you'll be part a team that's leading the way in climate positive solutions. Solutions that not only impact the lives of over 2 million Western Australians daily, but those of future generations too.
"Water Corporation is committed to creating an inclusive work place, where our people feel valued, connected, and that they belong. We believe that the many different backgrounds and experiences of our people helps us to be innovative, creative and adaptable to change. We continue to expand our hiring pathways and development programs with a focus on bringing diverse perspective to the business."

- Kate Beattie (Water Corporation, Manager - Talent Acquisition)
ADD VALUE AND FEEL VALUED WHEN YOU JOIN WATER CORPORATION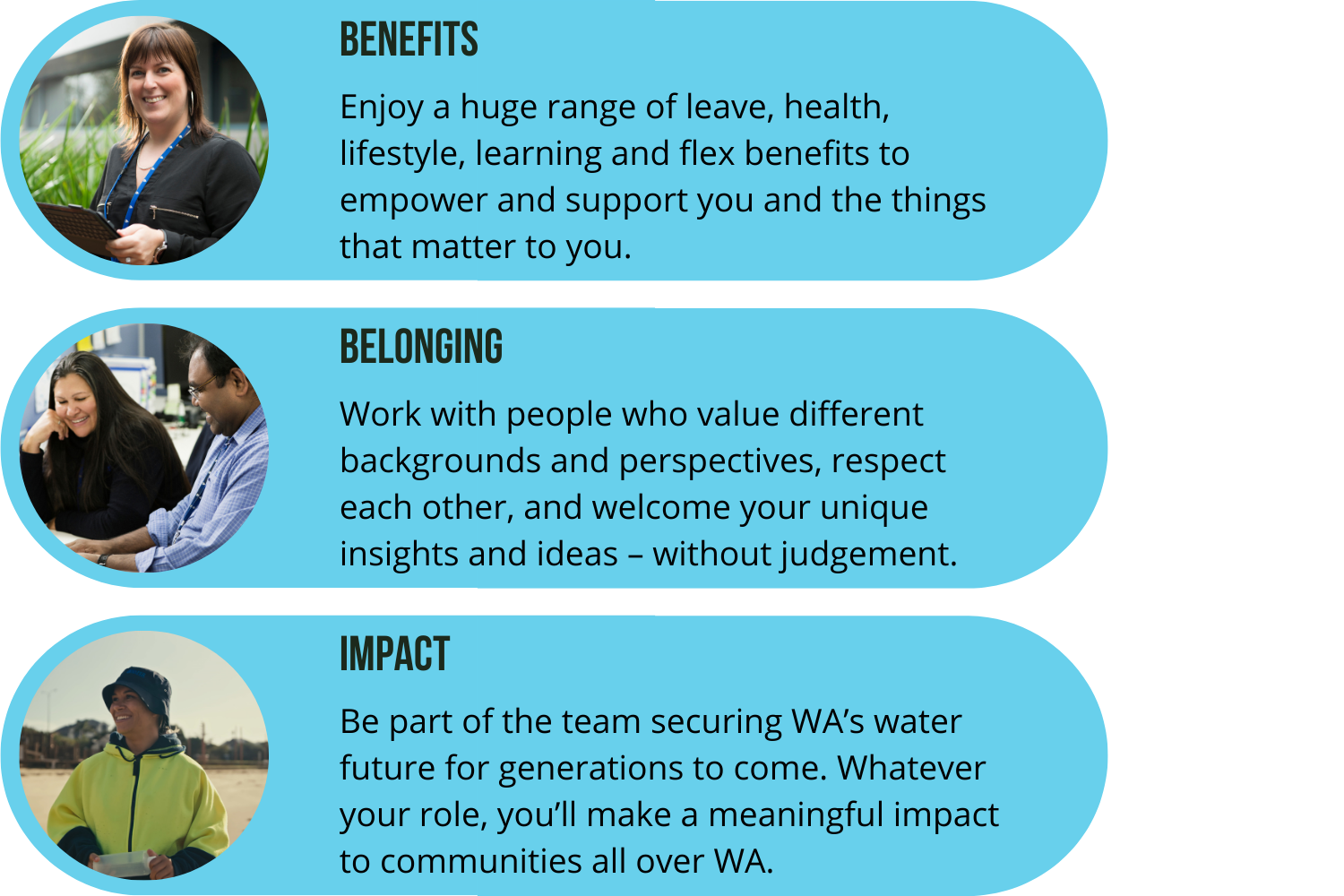 DISCOVER MORE ABOUT EACH ROLE
---
About FlexCareers
FlexCareers are leading experts in diversity, flexibility and future of work solutions across the entire employee lifecycle. Our careers platform features
Australia
and
New Zealand's
largest marketplace of flexible job opportunities, and connects talented individuals with progressive employers offering flexible work. Our
employer services
include strategy consulting, coaching, branding and training services as well as our proprietary Return to Work Program. Job seekers can also access career support from our
expert coaches
.