Employer Partners
Opening doors of opportunity Australia Wide with Ventia's Flexible Approach.
Multiple rewarding roles hiring now!
---
Ventia understand that by offering flexible work options to their workforce, they can create a supportive organisational culture full of opportunity— wherever you are based.
By embracing flexibility, they have the built a talented team of professionals that make up some of the most innovative teams across Australia working on the most exciting projects.
Opening up for Ambition
After a career transition from administration to project management, Facilities Manager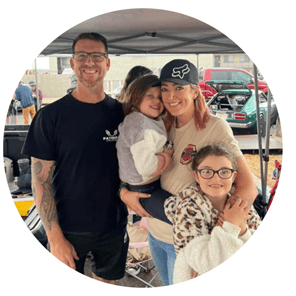 Cath Sola attributes Ventia for her successful career path that has allowed her career progression and helped her family settle in multiple locations across Australia.
Cath's experience has seen her hold multiple challenging roles, alongside raising her two young daughters with husband Andy.
Her facility management experience has included the Goodstart Early Learning facility, and more recently looking after the Australian Tax Office portfolio within Ventia's Whole of Australian Government contract.
Overcoming Challenges
There are obvious challenges to raising a young family while working FIFO (with three weeks on and three weeks off) but Cath attributes Ventia's sense of family as a facilitator in their success.
With the impending arrival of their second daughter, Cath and Andy took on a new challenge and moved to the tropical north and now call Cairns home, which makes the commute for Cath's FIFO role more manageable.
"I've really grown to love the climate here, the fact my kids can play outside year-round, and I have a really supportive mum-community as well as sporting teams I belong to." Cath says.
Work-Life Balance Goals
Cath sees the significance of her work life balance as crucial to the way the family work together and the flexible options offered by Ventia allow Cath to spend time on what's important to her outside of work.
Cath loves spending quality time with her family, playing on several sporting teams and more recently, flexing her creativity as she writes her first children's book.
What's more, she is an active role model to daughters Hazel and Layla on how you can drive your own work-life balance , and she hopes that they will find a career as satisfying as their mum has.
Caring leadership
"Looking after 26 sites across the country, some of them in regional areas where finding the right trades can be challenging, is complex."

— Cath Solas, Facilities Manager
Cath credits the creative leadership at Ventia that allows her to fulfil her career ambitions with the support she truly values at Ventia.
Furthermore, she's taken that pattern into her own leadership style always starting each week off with something positive and paying forward her appreciation actively shouting out the support she receives from her support team to manage the 26 sites across Australia.
Are you interested in nation wide opportunities with supportive leadership and flexible work options? Consider Ventia for your next career move. There's multiple role hiring now! Rewarding opportunities await.
---
About FlexCareers
FlexCareers are leading experts in diversity, flexibility and future of work solutions across the entire employee lifecycle. Our careers platform features
Australia
and
New Zealand's
largest marketplace of flexible job opportunities, and connects talented individuals with progressive employers offering flexible work. Our
employer services
include strategy consulting, coaching, branding and training services as well as our proprietary Return to Work Program. Job seekers can also access career support from our
expert coaches
.