Featured
Sportsbet – Bringing excitement to life
Sportsbet has great things to experience and they are committed to offering loads of perks that make Sportsbet a fun place to work hard and play hard.
---
About Sportsbet
Sportsbet is a leading Australian digital e-commerce business in the online wagering sector bringing excitement to over 2 million Australian customers. They employ more than 1,100 staff in three offices Melbourne, Sydney and Darwin. Sportsbet is a customer-obsessed company that brings excitement to life for its 2 million + customers across the country – but it's their tech and data teams that make it all possible.
Both tight-knit teams are known for their flexibility, variety, and scale of projects, decision-making autonomy, and the ability to make a big impact on their customers.
The perks of working at Sportsbet
Sportsbet has great things to experience and they are committed to offering loads of perks that make Sportsbet a fun place to work hard and play hard.
Employees get an additional 1 week of holiday, which means there are 5 whole weeks of annual leave to spend however you prefer.
Sportsbet will pay for the first 4 months of their employees' gym membership each year! They've also partnered with Medibank for Corporate Health Insurance and wellbeing initiatives such as online health webinars and on-site flu vaccinations.
Sportsbet cares about you and your community. Employees have access to 2 days of Volunteer Leave per year to spend some time doing good for a charity they care about.
Sportsbet is obsessed with bringing excitement to their customers and just as obsessed about bringing excitement to their employees. From their legendary Melbourne Cup After Party and Christmas parties to an amazing social fixture and fun right throughout the year, people at Sportsbet love coming together for a good time.
WE ALL NEED A BIT OF HELP SOMETIMES
Sportsbet always has their employees' best interests at heart. Their Employee Assistance Program (EAP) can help deal with a whole range of personal or work issues. Employees also have access to a free membership with Headspace-create life-changing habits to support mental health.
Sportsbet's paid parental leave benefit covers 6 months for the primary carer and 2 weeks paid PLUS 1 day a week off for 3 months for the secondary carer. An extension to their parental leave offering includes 1-week long-term foster leave, 5 days of IVF leave, 1-week paid miscarriage leave and 12 weeks still birth leave for the primary carer and 2 weeks for the secondary carer.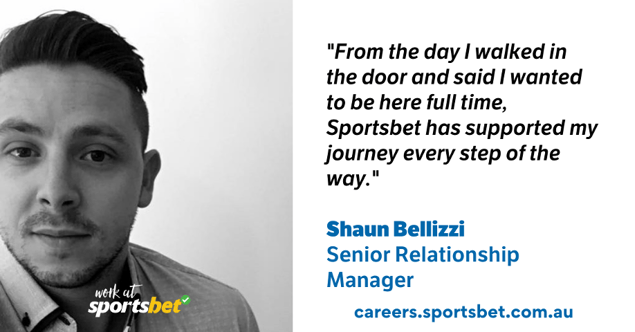 SPORTSBET'S COMMITMENT TO SAFER GAMBLING
Sportsbet has been a leader in establishing responsible gambling initiatives and tools to protect its customers and the wider community. It has supported restrictions on advertising to mitigate the risk of advertising indirectly to minors (such as restrictions on television advertising prior to 8PM), and in 2017 played a key role in establishing the independent peak body representing online wagering, Responsible Wagering Australia.
Sportsbet's commitment to responsible gambling is genuine and demonstrated through the wide range of initiatives and tools they offer that go over and above industry requirements.
Everyone at Sportsbet has a role to play in bringing our commitment to Responsible Gambling to life.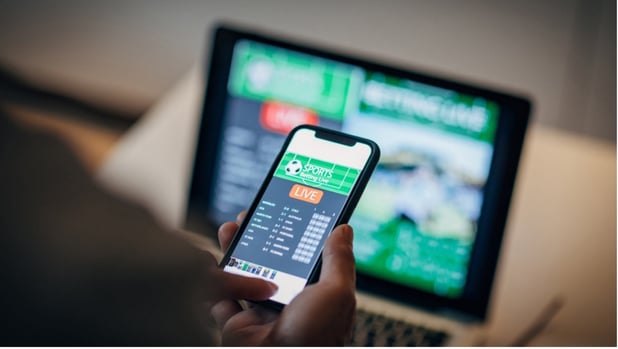 Work at Sportsbet
At Sportsbet, they love different, and they love bringing excitement to life.
They are a flexible, progressive, open-minded, and inclusive employer that welcomes you as you are. They like to focus on what you're great at and how you're going to make their team even better.
In the words of Liz Waldock, GM People & Culture: "While we are a leader in the industry, we never stop challenging ourselves for how we continue to grow and bring excitement to our customers. That means that no matter what role or career path you are choosing, you can be sure that you will engage in work that is exciting and meaningful."
---
About FlexCareers
FlexCareers are leading experts in diversity, flexibility and future of work solutions across the entire employee lifecycle. Our careers platform features
Australia
and
New Zealand's
largest marketplace of flexible job opportunities, and connects talented individuals with progressive employers offering flexible work. Our
employer services
include strategy consulting, coaching, branding and training services as well as our proprietary Return to Work Program. Job seekers can also access career support from our
expert coaches
.