Employer Partners
Jumbo Interactive – First day at work and expecting!
Anne recently started her new role as People Experience Lead serving Jumbo Interactive Limited's global business, at 35 weeks pregnant!
---
About Jumbo Interactive
Jumbo is a dedicated and proven outcome-focused lottery enabler, providing good causes with the tools needed to succeed and raise much needed funds, as well as the ultimate player experience for customers to enjoy B2C lottery. We provide the ultimate digital solution to powering lotteries large and small.
Anne's Story
After Anne enjoyed the flexibility of self-employment in order to prioritise her mental health and feed her creative spirit, she discovered that she missed working in a team, and making a lasting impact in the people space. Then came Jumbo Interactive Limited and the chance to work for a progressive business with amazing people. Here's what she had to say: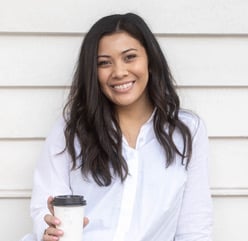 "I came onboard as an HRBP supporting the AU/Pacific Island region a few months ago. When I told my hiring manager, Abby Perry, that I was expecting my first baby, Abby didn't bat an eyelid. Instead, she did the following:
Passed my probation 3 months early, so I wouldn't have to worry about job security whilst on maternity leave
Gave me free reign to champion a Cultural Diversity program (including First Nations Reconciliation) to support the global DEI strategy
Accepted my application for a promotion within the P&C Team, despite the fact that I would be going on parental leave in 4 weeks
I officially started my new role as People Experience Lead serving Jumbo Interactive Limited's global business, at 35 weeks pregnant!
If you want to talk about supporting women in leadership, hybrid work, and a culture that empowers its people, Jumbo Interactive Limited is the place for you."
Work at Jumbo Interactive Limited
Jumbo Interactive is always looking for the brightest and best. Learn more about Jumbo Interactive and find your next role here!

-->
---
About FlexCareers
FlexCareers are leading experts in diversity, flexibility and future of work solutions across the entire employee lifecycle. Our careers platform features
Australia
and
New Zealand's
largest marketplace of flexible job opportunities, and connects talented individuals with progressive employers offering flexible work. Our
employer services
include strategy consulting, coaching, branding and training services as well as our proprietary Return to Work Program. Job seekers can also access career support from our
expert coaches
.